Checkweigher

【Mobile Monitor for Checkweigher】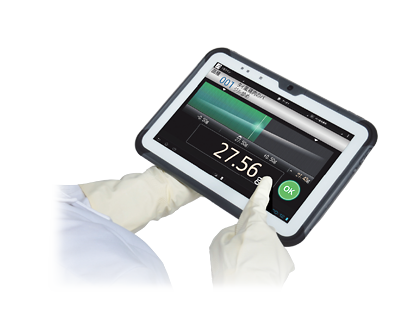 What is a mobile monitor?
Anritsu Mobile Monitor is a mobile application for Android tablet computers that allows for real time viewing of checkweigher operation including measurement data and statistics from remote locations. Connected to your checkweigher via wireless network, the Moblie Monitor is easy to set up with no cumbersome wiring required. You no longer need to run around your production site or sound a buzzer.
Application example 1: Filling process adjustment
The trending of measurement values are often manually monitored in adjusting the upstream filling process. However, in a factory where filling and checkweighing are located far from each other, or a hygienic zoning wall separates the two section, it is difficult to determine the optimal fill level. With the Mobile Monitor at hand, the operator can view measurement data without having to go to the checkweigher. The fill level can be optimized, achieving better efficiency and minimizing overfilling costs.
Application example 2: Live alarm notification
Many factories have an accumulation table that provides temporary storage space for products when the production flow is interrupted due to a problem with the downstream checkweigher. If the operator fails to notice the issue and when the maximum holding time is exceeded, the accumulated products must be disposed of for quality reasons. In order not to let this affect the company's bottom line, abnormal events should be notified to the upstream manufacturing process immediately. The buzzer from the checkweigher may not be heard due to machine noise or zoning walls. With the Mobile Monitor displaying current checkweigher status, or its signal tower light alarm (optional), the operator can realize the events at the distant checkweigher, which reduces product wastage.