Zebra industrial printer
Zebra's industrial printers meet your needs to help you do more with less. And, they easily integrate into your existing enterprise and keep pace with your evolving business challenges. See your entire supply chain in real time, increase efficiencies and leverage Internet of Things (IoT) technologies to gain a competitive advantage. Ideal for a wide variety of high- to mid-volume industrial applications in manufacturing, transportation and logistics, government, retail and healthcare.
ZEBRA ZT600 SERIES INDUSTRIAL LABEL PRINTER
The ZT600 Series advances the legacy of the Xi Series printers to combine rugged durability and exceptional performance on a user-friendly, future-ready platform. These next-generation workhorses are designed to help you navigate the rapidly evolving business landscape. So, whether you're concerned about growing production line demands, increasing operational complexities, integrating disparate systems or controlling investment costs, the ZT600 Series industrial printers have you covered today – and for years to come.
ZEBRA ZT510 SERIES INDUSTRIAL LABEL PRINTER
Building on the legacy of the industry-leading, 105SLPlus printer, the ZT510 includes the core features you need in an industrial printer at a cost-effective price point. The ZT510 provides a proven, durable design and construction while adding advanced management and monitoring capabilities. That means you get 24/7 reliability to keep your operations running smoothly today, plus longevity and advanced functionality to power through every challenge in the years to come — all at an exceptional value.
ZEBRA ZT400 SERIES INDUSTRIAL LABEL PRINTER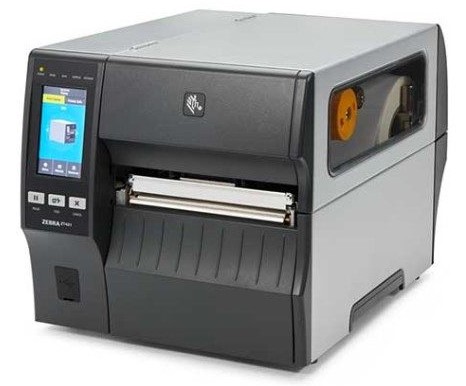 Keep your critical operations running efficiently. Constructed with an all-metal frame and bi-fold door, ZT400 Series printers deliver advancements in print speed, registration and connectivity as well as additional advanced features.
ZT400 printers feature USB, Serial, Ethernet and Bluetooth® connectivity along with expanded RFID capabilities. And with Zebra's Link-OS® environment, an innovative operating system, you can easily integrate, manage and maintain these printers from anywhere in the world.
ZEBRA ZT200 SERIES INDUSTRIAL LABEL PRINTER
Zebra incorporated extensive customer feedback, as well as the legacy of our industry leading Stripe and S4M printers, to create the new ZT200 Series family of printers with elegant space-saving design, effortless setup, intuitive user operation, and ease of service and maintenance.