MOBILE PRINTERS
Small and flexible
Smart and portable printers that print and store label information without the need to be connected to a PC – standalone, mobile, compact and portable – SATO offers a wide range of printers for various applications, from retail labelling on the shop floor to food preparation labelling in the catering.
These ergonomic wonders are perfect for a wide range of business applications including mobile printing, receipts printing, price marking, specimen labelling, route accounting, shelf labelling and application in points of sale (POS).
PV4 series


PW2NX

Print method

Direct Thermal

Direct Thermal

Printing width

4 "(104 mm)

55 mm

Printing resolution

203 dpi

(8 dots/ mm)

203 dpi (8 dots / mm)

Printing speed

Up to 127 mm/s (5 IPS)

Smart control for faster printer

Weight

1 090 g (including battery, excluding media)
437.8 g (including battery)

Durability

Drop tested to 2.5m all faces

Battery

Smart battery 7.2V, 1950 mAh
Linerless labels compatible

Yes, as standard

Interfaces
USB 2.0 type C, Bluetooth 4.1 LE, IEEE 802.11 a/b/g/n

NFC, USB, Bluetooth, WLA with iOS compatibility

Emulations

SLCS, BPL-ZTM, BPL-CTM

SBPL, SPOS, SCPL, SZPL, SDPL, SIPL, STCL

Memory

256MB Flash, 128MB SDRAM



PV4 SERIES

Compact and powerful mobile printer
Designed for powerful on-demand labelling, the PV4 can be implemented in various industries, including retail and more.
With the increasing demand for on-the-go label printing, compared to previous years, businesses now seek mobile, IoT-enabled devices to ensure more than just the essentials in label printing. SATO's next-generation PV4 is designed to improve customer satisfaction, increase productivity with a large media roll compartment and provide always accurate track and trace service for ultimate performance.
Lightweight, compact, durable and with an excellent battery capacity, the innovative PV4 design makes it suitable for both indoor and outdoor use, allowing the user to quickly and effectively carry out tasks such as inventory management, picking, packaging and shipping.
Third-party emulation capabilities ensure the printer can be smoothly integrated into existing workflows without hindering productivity. It also comes fully equipped with several printing interfaces, enabling cost-effective, quick and high-quality printing operations across the supply chain.

Benefits of choosing SATO PV4

• Smart battery
• Extended battery capacity
• Large media capacity
• Rugged/robust
• Flexible to integrate
• Cost-effective
• Easy to configure and setup
• IP54
• Wi-Fi connectivity
• iOS compatible

| | | | | |
| --- | --- | --- | --- | --- |
| | | | | |
| Courier delivery | Healthcare | Manufacturing | Retail | Transport & logistics |


PW2NX SERIES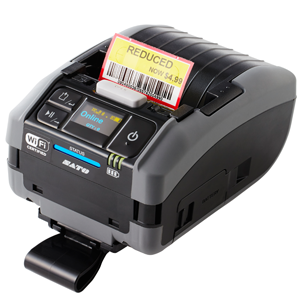 Range of powerful and compact 2-inch mobile printers
SATO's PW2NX series is a highly productive, durable and compact 2-inch mobile printer, ideal for applications in various industries from manufacturing and distribution to healthcare. It offers best print speeds and high quality, robust print in its class with the help of multiple interfacing options. SATO PW2NX series printers are cost-effective solutions for quickly printing the necessary information wherever and whenever it is required.

UNIVERSAL 2-INCH LABEL PRINTER FOR MULTIPLE APPLICATIONS AND ENVIRONMENTS
PW2NX series printers are lightweight and durable, which makes them ideal for both indoor and outdoor application. From markdowns to shelf labelling to bedside sample labelling, the device supports improved operator efficiency and increased productivity. This in turn, leaves more time for operators to focus on their customers or patients.

Benefits of choosing SATO PW2NX
• Portable and lightweight
• Simple to operate
• Compact
• Robust
• Fast print speed
• AEP support
• Smart battery with intelligent charging and usage technology
• NFC function
• Direct Wi-Fi
• Linerless standards
• Multiple accessories available

| | | | | | |
| --- | --- | --- | --- | --- | --- |
| | | | | | |
| Automotive | Healthcare | Food industry | Manufacturing | Retail | Transport & logistics |
CERNER VALIDATED

SATO WS2, WS4, PW2NX, MB4i, CG2, CG4 printers are fully Cerner validated peripheral devices for native use within Cerner Health IT system to ensure safety, quality and efficiency for patients. SATO WS4 printers are designed for wide use across all healthcare supply chain, notably for printing of patient wristbands, specimen pathology labels and other labels used in hospitals. They can be used across various legs of the supply chain from clinical laboratories to pharmacies, medical check-up centres, clinics and hospitals. SATO is a GS1 Healthcare member and works to promote widespread serialization in all global healthcare supply chain to ensure patient safety and comfort.