GoDEX Company Profile

The company is founded in 1993 with its main office in Taipei, Taiwan. GoDEX International is an engineering company specializing in the development and production of barcode printing products. Leader in price and performance. Having offices in the USA, Europe and China, GoDEX distribute its products all over the world.
GoDEX has built its success and won thousands of customers thanks to excellent and highly available products dedicated for 100% to long-term customer satisfaction and provided by the company and a network of distributors.
Label printers
A label printer is an essential piece of equipment for any business that needs printing of labels, tags, barcodes, receipts, etc. on a daily basis. Label printers are widely used in retail, logistics, transport services, manufacturing. A label printer will also be a great help wherever you need to quickly print labels on documents, folders, envelopes. This device will be useful both in office and at home.

Advantages of GoDEX label printers:
• high quality products with a warranty period of up to 3 years and for some Godex models – up to 5 years;
• a wide range of models for any need;
• favourable prices;
• responsive and professional team of employees;
• effectively organized warranty and after-sales service;
• possibility to purchase products regularly required for printing (ribbons, printheads, etc.);
• professional advice and customer support in the shortest possible time.
The main prerequisites for choosing label printers:
• Printing method – all our label printers use thermal transfer method or direct thermal printing.
• Resolution – the higher the resolution, the better the image quality. A compact label printer mostly offers 203 dpi or 300 dpi;
• Print Speed – how many labels the label printer can print in a single unit of time. Depending on the model, print speed for compact printers ranges from 102 mm/s to 152 mm/s;
• Print Width – the maximum label width that can be printed with a specific model of device. Compact label printers are mostly designed for printing standard 54 mm – 108 mm wide labels.
• Ribbon length – indicates the length of ribbon that can be used in a specific model of printer. The length of the ribbon for compact printers can be from 110 m to 300 m.
• Equipment design and materials used qualitatively.
• Ease of use and additional features.
Important additional features:
• compatibility with and support of different operating systems: Windows 7 / Windows 10/ Mac OS X 10.4.11 – 13.6
• compatibility with various databases, including csv, txt, mdb, xls, Microsoft SQL Server Database;
• availability of a special printing software (GoLabel, QLabel software, etc.);
• connection options – USB 2.0 Type B, USB Host, Ethernet, Wi-Fi, LAN connection;
• display – depending on the model, the label printer may be equipped with a user-friendly and easy-to understand standard LCD or TFT display, a colour LCD or TFT display, or a touch screen;
• ability to print from mobile devices like iPhone iPad, iPod, and Android;
• automatic label cutting function – the label printer cuts the printed label itself, which significantly improves productivity;
• printing language – possibility to select the printing language;
• different font styles – possibility to choose the font type that is visually the most suitable for your text;
• text rotation function – possibility to print text horizontally, vertically, obliquely, etc.;
• time and date insertion function if required.


Desktop label printer
Compact or desktop label printers designed for fast printing in small volumes. These label printers are small in size, convenient to place on a table or to take with as a mobile device.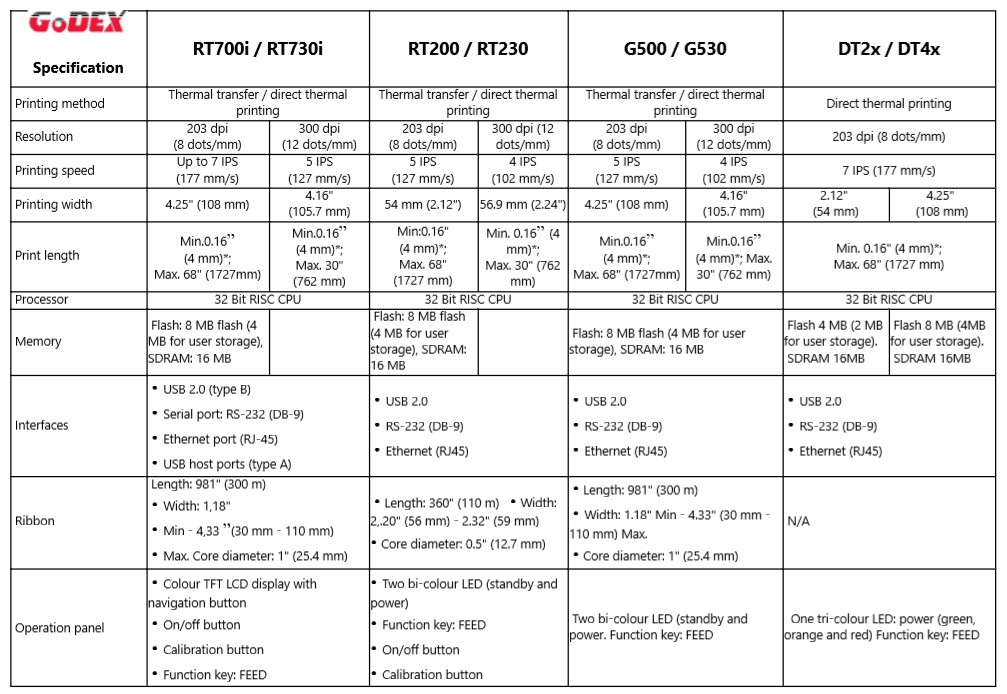 *
Minimum print height and maximum print speed specification compliance can be dependent on non-standard material variables such as label type, thickness, spacing, liner construction, etc. GoDEX is pleased to test non-standard materials for minimum print height, and maximum print speed capability.


GoDEX desktop label printer – series RT700i / RT730i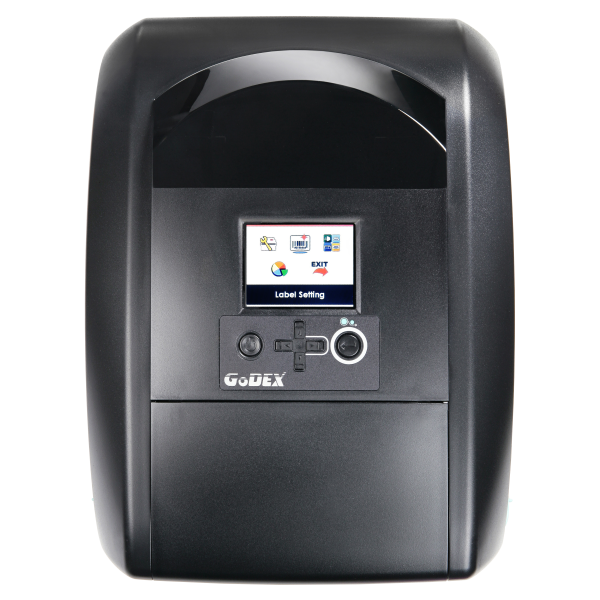 GoDEX's portfolio of compact, but feature rich desktop label printers are ideal for situations that are tight on space, but require high-quality, reliable direct thermal or thermal-transfer printing. Engineered for ease-of-use, these printers offer a broad range of connectivity options, making them ideal for countless low- to mid-volume label, receipt or wristband printing applications.
• Modern design makes it easier to load labels.
• Colour TFT LCD display and operation panel for intuitive navigation.
• Ethernet, USB 2.0, serial and USB host port are the standard functions ensuring flexibility and power.
• Rod-less label roll holder for easy loading and smooth feeding.
• Innovative "C" button makes label calibration simple and fast.
• EZPL, GEPL and GZPL language support.
• Free GoLabel label design software.


GoDEX desktop label printer – series RT200 / RT230
RT200 / RT230 mini barcode printer fits on every desk. The compact size of GoDEX RT200 is a perfect printer solution where space is tight and value pricing is important.

• Compact size and unique industrial design.
• Modern design makes it simple to load labels.
• Ethernet, USB 2.0, serial and USB port are the standard functions ensuring flexibility and power.
• Innovative calibration button makes label calibration simple and fast.
• Full-range adjustable sensor, enables printing on small and difficult labels.
• "Twin-Sensor" technology allows to use a broad range of labels.
• EZPL, GEPL and GZPL language support.
• Free GoLabel label design software.


GoDEX desktop label printer – series G500 / G530
High-tech power with a customer friendly price
GoDEX printer G500 is perfect for printing on all types of materials especially for retail and industrial applications.
• 300 meter ribbon with the label stand provides maximum printing volume.
• Strong and stable mechanism design for long term reliability.
• "Twin-Sensor" technology allows to use a broad range of labels.
• Available interface combinations include: USB 2.0, Serial and EthernetUSB 2.0 and Parallel


GoDEX desktop label printer – series DT2x / DT4x
Simple, compact and reliable barcode printers. Ideal for printing retail labels, hospital and leisure bracelets, as well as in many other cases of short-term labels. We offer auto language emulations: EZPL, GEPL and GZPL and our free GoLabel / QLabel software with database function for easier design process.
Powerful, simple and compact barcode printer.
GoDEX DT2x and DT4x printers are both ultra-light, compact for best space utilization and support multiple communication ports. Desktop printers are suitable for printing retail, warehouse, logistic and transportation, health care labels and tags.
• 16MB SDRAM and 4 MB flash memory - including 2 MB user-available memory storage for downloadable objects.
• Print speed: up to 7"/177 mm per second.
• Supports Ethernet, serial and USB ports.
• Enhanced label feeding mechanism and instant label detection.
• Free GoLabel label design software.


If you need label printers, you are welcome to select and order them by contacting us.
NORD SYSTEMS SIA is the official representative in Latvia, providing fast technical service for GoDEX label printers, offering supply and installation of new printers and performing warranty and post-warranty repairs.