Introducing Anritsu's Advanced Long Life Technology
The highly engineered high sensitivity x-ray generator and sensor provide outstanding sensitivity at lower energy levels. The result is superior performance, extended life of cycles and reduced true cost of ownership. The low output x-ray generator reduces heat generation, eliminating the need for cooling system, resulting a 30% reduction in power consumption.

*1) Comparison with conventional models with air-conditioner. *2) It is the estimated value by Anritsu and may vary depending on the usage condition of machines.



Easy to Operate
<Simple step-by-step product setup>
Product Registration Navigation simplifies parameter setting procedures with step-by-step illustrated instructions.

<Easy to adjust sensitivity>
An x-ray processed image and a projection monitor on which detection signals are shown graphically are spotted vertically on the screen. The detection limit value can be easily adjusted.
Simple Maintenance
| | | | | |
| --- | --- | --- | --- | --- |
| | No tools are required for removing/attaching the conveyor belts and rollers including the front cover and x-ray leakage prevention curtains. | | | The system's angled surfaces prevent water from accumulating after system cleaning. |
[Example model] Pass width: 300 mm, Pass height: 80 mm (KXS7522AWCLE)
■External Dimensions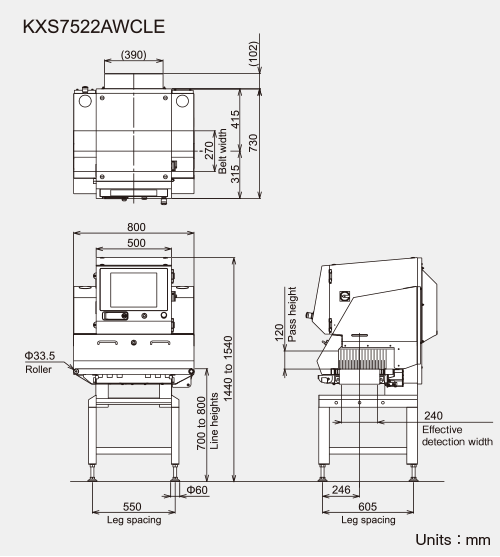 ■External Dimensions
Model

KXS7522AWCLE

X-ray output

Tube voltage 30 to 80 kV, tube current 0.4 to 3.3 mA, output 12 to 100 W

Safety

X-ray leakage maximum 1.0 μSv/h or less, prevention of x-ray leakage by safety devices

Display

15-inch color TFT LCD

Operation method

Touch panel (with touch buzzer)

Product size 1, 2

Maximum width 240 mm, maximum height 120 mm

Belt width

270 mm

Preset memory

200

Belt speed 3 /Maximum product weight 4

10 to 60 m/min maximum 5 kg

60 to 90 m/min maximum 2 kg

0 to 40 m/min maximum 10 kg (optional)

Power requirements 5

100 to 240 AC, single phase, 50/60Hz、700 VA or less (standard)

Mass 6

225 kg

Environmental conditions 7

Temperature: 0º to 35ºC, Relative humidity: 30% to 85%, non-condensing

Protection class

Conveyor IP66, other parts IP40

Exterior

Stainless steel (SUS304)
1: The detectable area is shown above. 2: The entrance and exit may require covers depending on the length of a product. 3: Variable depending on Product No. 4: Sum total of product weight on the conveyor. 5: Allowable power fluctuation range in ±10%. 6: Mass without option 7: Belt speed and maximum product weight are restricted at the temperature between 30℃ and 35℃.